Here's a quick look at some of the newest products from our line card.
Hardware Encrypted Solid State Drives – FIPS 140-2
Hard Drive security is a challenge facing all IT departments and government agencies. Integral produces a range of AES 256-bit hardware encrypted SSDs that provide an easy to use, cost effective and highly secure solution that is designed to work with your end-point security. If a PC/laptop/ultrabook/tablet protected with an Integral Crypto SSD is lost or stolen, sensitive data is securely encrypted and cannot be accessed without the high-strength password. This includes the operating system as well as all other files that are stored on the drive. An unauthorized user WILL NOT be able to boot the system or access any data by transferring the Crypto SSD to another system or by cloning the drive.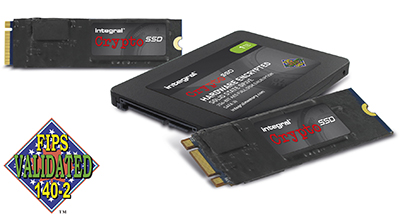 Our Crypto FIPS 140-2 product range offers zero footprint models so that no software installation is required. All files on the drive are automatically encrypted and are protected by a mandatory high-strength password. All Crypto products will securely destroy data safely if the set password attempts are exceeded, protecting your data if lost or stolen. The Crypto SSD is the no-fuss and highly-secure solid state encryption solution for many industries including; finance, legal, health, education and government.
Available in SATA III 2.5", SATA II M.2 2280 and M.2 2280 NVMe PCIe (nvm Express) format in capacities up to 2TB.
Download a brochure here or contact us at for pricing.

FIPS 140-2 Private Cloud Storage Systems
SGS is the FOCI mitigated government arm of Seagate. Seagate's mission is to deliver an array of data management solutions to federal agencies and their partners with their highly secure, top performing, affordable data management with a robust supply chain of components and storage devices. Seagate's proven technology adheres to strict government mandates while spearheading the way for advancements in the field of security—from unclassified to top secret, and beyond at a fraction of the cost of larger secure cloud providers.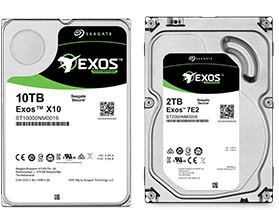 Tethered Drones for Persistent Aerial Surveillance and Radio Relay
Elistair designs smart tethered drones for persistent intelligence, surveillance, reconnaissance (ISR) capabilities as well as high-bandwidth communications.
Our products can fly for days, and in restricted airspace that are off-limits to free flying drones. Currently is use by major industrial companies and government agencies in over 40 countries. Whether you already own a drone and need a tether or are looking for a turnkey system, we can help. Check out the Elistair YouTube page for more information.
Leading edge antennas for the warfighter, covering bands up to and exceeding 4GHz, HASCALL-DENKE's US factory builds the most rugged and highest gain tactical antennas for manpack, maritime, vehicular and base station applications.

Midwest Microwave Solutions introduces their new Coherent Dual Channel Ultra-Wideband Microwave Digital Receiver, WRX-626G-D, tunable from 5.75 to 26.5 GHz (with up to 44 GHz extendable coverage). The unit is extremely low SWaP, has superior SFDR and Ultra-Low Phase Noise, while providing wideband digitization and processing in a compact low-power design. The unit provides simultaneous Dual 500 MHz Analog and 500 MHz digitized outputs, as well as sub-band tuning with up to 8 DDC's, 100 MHz BW per DDC (120 MSPS I/Q 16-bit per). The unit provides programable FFT and SCAN functions, precision Time-Tagging, Spectrum Search and Display Monitoring with VITA-49/SDDS data formats.
The WRX-626G-D employs a highly integrated ADC in conjunction with a Xilinx UltraScale+ FPGA for sampling and processing wideband high-speed data samples into I/Q signals. The digitizer contains a companion DSP that interfaces with the high-speed digital data from the FPGA through synchronous interfaces supporting DSP DMA transfers of snapshot data sets. The IF Output from each Tuner is digitized using a 14-bit A/D sampling up to 2600 MHz. The onboard low-jitter A/D Clock provides programable sample rates, with decimation suitable for FPGA and DSP spectral processing. The high-speed I/Q data is outputted via a 40 Gb QSFP+ interface.
The WRX-626G-D is an ideal choice for software–defined radio (SDR) applications, SIGINT Systems, Wideband Test Systems and Communication Receiver applications. It provides an open architecture design with reconfigurable "flash via webpage", which is ideally suited for user programmable spectral analysis, multi-mode demodulation, and multi-channel down-conversion, as well as general purpose dual-channel signal processing.
Visit Midwest Microwave Solutions online to learn more.